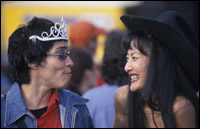 GLISA was incorporated in February 2004 after the participants of an international think tank concluded that there was a need for new international organization that services the needs of the gay and lesbian sports clubs and teams around the world.
The academics, athletes and sport administrators who attended the Think Tank coming from Europe, USA , Australia and Canada , arrived at the following public declaration:
As an international group that collectively represents a vast range of experiences in both the lesbian/gay and mainstream sport worlds, we recognize the evolution that has occurred in the lesbian and gay sporting movement. We agree as follows:We support the creation of an inclusive, globally recognized, integrated gay, lesbian, bisexual, transgendered association that celebrates, supports and promotes our culture through sport;This association will develop a worldwide events calendar of continuous sports opportunities for participants;We support the values of innovation/pioneering, accessibility, trust and fairness, as reflected in the association's governance, management and programs;We will work to build this association on a business model that is financially sustainable, in order to create legacy and enhance capacity for gay, lesbian, bisexual, transgendered sporting communities worldwide.
As a result of their efforts the OutGames multisport games event and brand was born. GLISA is the governing body responsible for sanctioning World OutGames every 4 years and Continental OutGames on the intervening years.
The next world OutGames will be hosted in
Miami Beach, Florida, in the United States of America in May 2017.
LINKS: 
http://www.glisa.org/outgames/world-outgames/